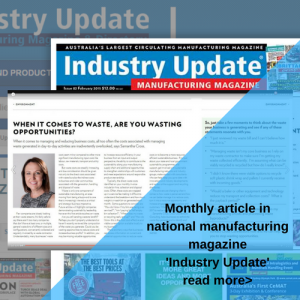 WHEN IT COMES TO WASTE, ARE YOU WASTING OPPORTUNITIE$?
When it comes to managing and reducing business costs, all too often the costs associated with managing waste generated in day to day activities are inadvertently overlooked.  Few companies are closely looking at their waste streams.  It's fairly safe to say there aren't too many companies that don't have at least one, or multiple, general waste bins of different sizes and configurations, conveniently collected and regularly invoiced by a waste contractor.   Understandably, many businesses' waste costs are seemingly minor compared to other more significant manufacturing input costs like labour, raw materials, transport and utility costs.
But waste costs are steadily increasing and due consideration should be given not only to direct costs associated with waste but also to the indirect costs to business and wider communities associated with the generation, handling and disposal of waste.   Waste is only one component of sustainable manufacturing, an area moving from being a buzz word to one that is increasingly viewed as a critical and strategic business imperative.   Future articles will highlight companies demonstrating sustainability leadership, however this first article touches on waste.  
Are you still sending waste to landfill?
Perhaps you don't properly understand or haven't recently reviewed the composition of the waste you generate. Could you be wasting opportunities to reduce costs and increase business profits?  In addition, you may be missing valuable opportunities to increase resource efficiency in your business from an input and output perspective, the ability to contribute to the sustainability along your manufacturing supply chain and additional opportunities to strengthen relationships with customers and meet expectations around responsible product stewardship.
Typically, the direct waste costs identified on your monthly invoice include bin hire, collection and disposal costs.  Often, these costs are wrapped up in a service fee making it difficult to understand the breakdown and how much weight is in each bin or generated each month.  Some questions to consider are "how do I know if my bins are being over serviced? "am I paying for half empty bin collection?   Where does my waste or recycling really end up and how do I know this is the most cost effective and viable current option available locally to my business?
For businesses interested to better understand current and potential opportunities to reduce waste costs or to become a more resource efficient sustainable business, there are numerous options available.  Find out about your state and local government sustainability programs and support, get involved with sustainable manufacturing networks and industry groups, make contact with consultants who can assist you to keep up to date with innovations and industry developments and review online support and recycling directories.
The answers are changing
When it comes to how waste is perceived and how we can better manage it to reduce costs and turn it into a resource opportunity and increase engagement with suppliers and customers, YES, the answers are definitely changing. Ask yourself this one simple question: "What actions can I take  to realise value in my waste?"
Samantha Cross – Cross Connections Consulting – can help your business to rethink the waste generated and to identify and review resource efficiency opportunities.  For more information make contact now on 0423 943100.