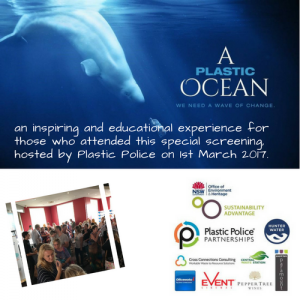 Over 200 guests attending the special screening of A Plastic Ocean at Event Cinemas Glendale.  Guests were treated to displays from several non-profits and government organisations assisting communities and businesses to become more sustainable with some of these groups partners of the Plastic Police Partnership program including Take3, Boomerang Bags, Waste Initiatives and Newtecpoly.
We were also privileged to have Anne Prince, APC as a guest speaker and part of our Q&A panel.  Anne actually featured in the documentary when the crew filmed initiatives undertaken on Lord Howe Island.  We also welcomed Rod Clare from Office of Environment & Heritage's Sustainability Advantage Program who spoke about innovative businesses in the Hunter Region tackling the issue of waste plastics, including Plastic Police Partnerships, a community engagement program that is being developed and rolled out in the Hunter Region to better manage soft plastics both from households and businesses.
Snapshot
Endeavouring to provide greater awareness in the region of the impact of plastics ending up in our landfills and marine environments and what we can do at a local level to create change.
Leading by example, locally supplied Peppertree Wines were served in reusable wine glasses supplied by Paramount Event Hire, avoiding single use plastic wine glasses. Plastic beverage containers were recycled.
Keep NSW Beautiful (KNSWB) supported the event and Cross Connections is working with KNSW and NSW EPA to assist local community groups access $500 for local litter checks and up to $5,000 in available funding to undertake litter reduction projects.
Feedback post the event demonstrates a community willingness and desire take action and create change.
Some guest feedback:
"Amazing work Samantha Cross you are an inspiration to anyone thinking the problem is too overwhelming and asking themselves "well what can I do?""
 "Every human on the planet should see this movie especially young people and become involved on a local level just like you, great job."
 "…certainly shows we need to all work together"
 "A great night with a huge message"
Plastic Police appreciates the invaluable support of our sponsors to enable us to co-ordinate this event providing opportunities to further engage with and achieve greater sustainability and local community engagement outcomes.